Skill up with up to 90% funding#!
Receive up to 90% funding# from SkillsFuture Singapore when you skill-up with our HighSpeed Accelerated Diplomas (ADip)! Find out how you can do so at our Open House!
#For eligible participants. Terms & conditions apply.
Join Our Open House
Get a taste of what life in At-Sunrice is like

Visit us at our campus for an enriching experience which will open your eyes to the culinary world. Learn about how we cultivate global chefs and F&B professionals; nurture skills, knowledge and values in Eastern and Western cuisines; and our unique Study & Work pedagogy, that prime our students for success in the industry.


Exciting opportunities await in this dynamic industry! Carve your future with us today.
11.30am - 2.30pm (Registration opens at 11.00am)
At-Sunrice GlobalChef Academy
28 Tai Seng Street, Level 5, Singapore 534106
• At-Sunrice Programme Sharing
• Meet our exclusive list of F&B establishments for sponsorship opportunities
• Consultation
• Campus Tour
Goodie bag (Limited availability! First come first serve.)
Includes sponsored merchandise from partners and F&B establishments
Sponsored by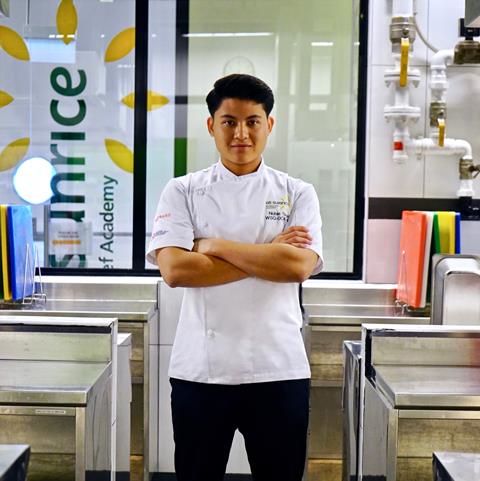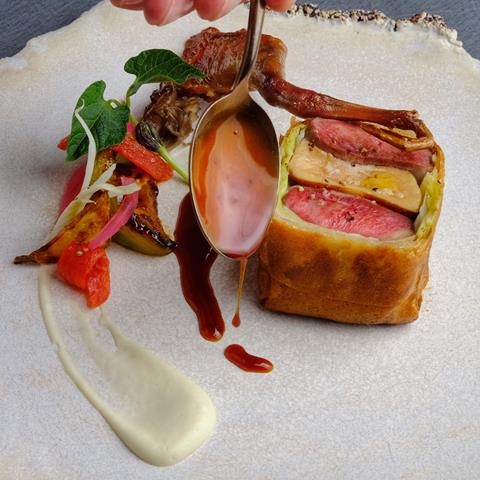 GLOBAL REACH
We are one-of-a-kind
With an internationally diverse faculty and student body hailing from 32 countries, At-Sunrice offers a global culinary programme combining Eastern and Western cuisines as well as Old World and New World cooking techniques.
All At-Sunrice Diploma students know what it's like to work in the real world. Our flagship 18-month diploma programme includes a 3,100-hour work-and-study programme with two paid apprenticeships at both local and overseas, for up to six months of practical training.
WHY JOIN US
A career in culinary is future proof
Choose a training centre that has been repeatedly voted the best, 4 years in a row!
Master Asian and Western techniques and cuisines
Gain exposure through 2 paid jobs during your course, at 5-star hotels and Michelin-rated restaurants –including overseas industrial attachments.
Celebrate global diversity with passionate classmates and faculty from over 32 countries.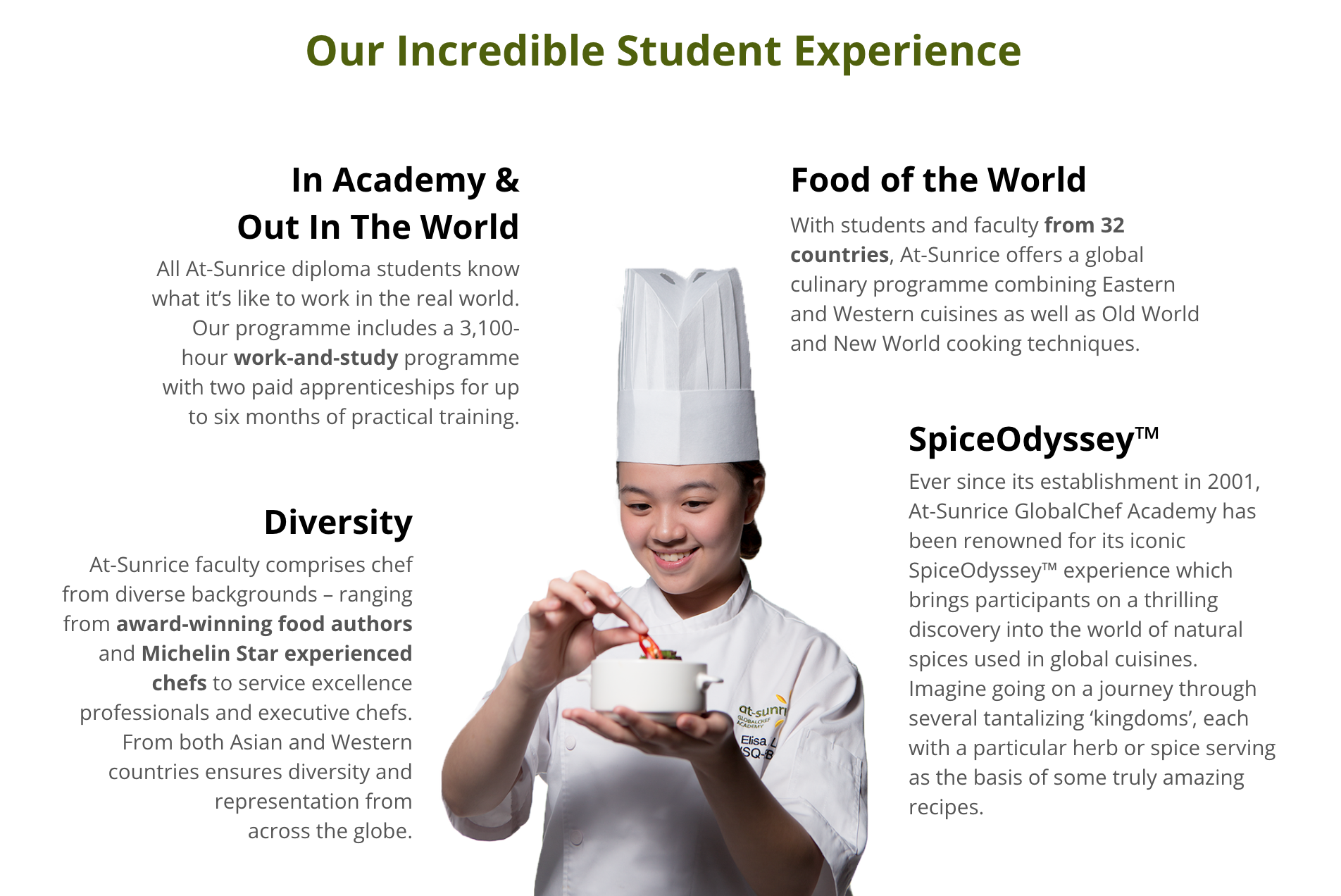 Rated the best Culinary Academy, Year-on-Year*!
Recognised as the "Best Private Education Institution for Culinary Arts" by JobsCentral from 2016 to 2019, At-Sunrice combines rigorous education with access to industry leaders to ensure success for aspiring chefs and food entrepreneurs.
*Awards discontinued in 2020 and 2021.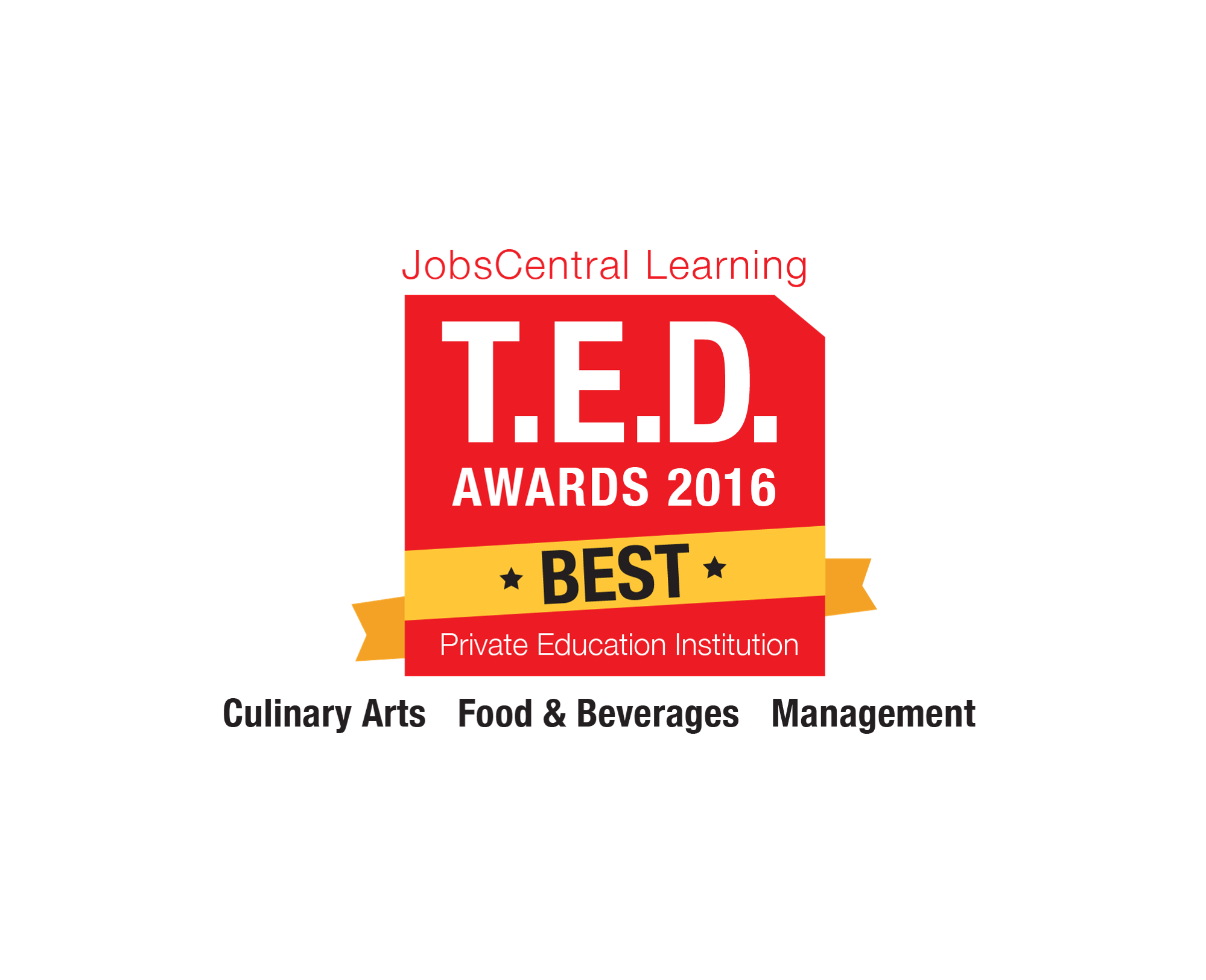 "By submitting this form, I understand and acknowledge that: At-Sunrice GlobalChef Academy (ASR) is committed to maintaining the confidentiality of my personal information and will undertake not to divulge any of my personal information to any third party without my prior written consent, subject to the obligation of ASR to disclose to any Singapore government authority, statutory boards, agencies and/or to the organisation confessing/ awarding the qualification, any information relating to me in compliance with the law and/or fulfilment of obligatory requirements associated with my application to ASR. ASR is authorised to contact, correspond and send information for programme-related purposes to me through any of the contact modes as provided within this form."
AT-SUNRICE ALUMNI
Some of the notable alumni from our programmes include chef owners of reputable restaurants and bakeries.