TRAVEEN GULRAJANI
Bringing Nordic Flavours to the Heart of Singapore
Smør is a convivial Scandinavian deli located in the hustle and bustle of the Central Business District's One Raffles Place. It offers a smorgasbord of Nordic flavours in the form of hot and cold open-faced sandwiches, coconut-crusted Norwegian salmon fillet, coffee-cured sirloin beef strips, tofu steak with mango salsa, Norwegian cod and herring fillets besides the staple of Swedish meatballs. Chef Traveen Gulrajani's inspiration came about from his own experience of an expanding waistline – courtesy of the corporate life, involving lots of camping in front of a computer, and lavish business meals. When the doctor warned him that he needed to look after his health, it was a wake-up call. Smør only uses the freshest of ingredients, air-flown from Scandinavia, packing a perfect combination of the right amounts of complex carbohydrates, protein and fibre into every dish and sandwich.
After 13 years at Bloomberg Singapore, what made Traveen leave his well-paying job for the risks and unpredictability of the food & beverage industry? The answer is simple: He didn't want to live a life with regret. The affable Turkish-Norwegian shares that when he made the announcement to leave his position as sales director at Bloomberg to open a deli, he was greeted with surprising responses of encouragement, with many of his colleagues telling him to go live his dream. The positive response from people around him spurred Traveen to take the next step towards realising his dreams.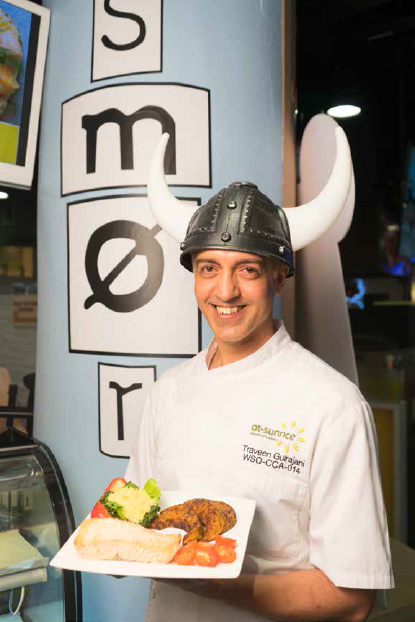 He enrolled in a Certificate in Culinary Arts programme with At-Sunrice GlobalChef Academy, and tells us about his experience: "I still remember bonding with my aspiring and passionate classmates. It was wonderful and something that no corporate environment can ever provide." He adds that whilst he learnt something every day at the academy, his biggest takeaway was getting an appreciation of what true commitment means – which is utmost dedication, and always striving to be the best one can be.
It's not just memories and culinary skills that Traveen brought away from At-Sunrice.
"We were a tightly-knit bunch at the Academy; so when I first opened Smor and needed help, a bunch of my classmates came down to help me. It was a fun time: I got some loyal, highly-trained staff; and they got a chance to pick up tips for when they were ready to open their own place."
Indeed, this seems to be a hallmark of the culinary world – an egalitarian bond of friendship and collaboration.
Smør has been operating for 15 months now, and with careful space planning, sure-footed positioning and a 100% commitment to excellent customer service, Traveen has already recouped his initial investment. His decision to locate himself in his old backyard has paid off in spades, despite the astronomical rents in the CBD. "I know 3/4 of my customers by name." And it's not just individuals who have proven to be loyal customers; Traveen's catering arm has also gained much traction as companies in the vicinity such as Twitter, Microsoft, BNP Paribas and of course, Traveen's ex-company Bloomberg, have latched onto his unique, healthy fare and given him much repeat business. He is now exploring a second location, outside the CBD, to expand the reach of the Smør brand.
Traveen cites his family and loved ones as his biggest support and inspiration, but it is no surprise that the ex-Bloomberg employee also looks up to English businessman, successful entrepreneur and founder of the Virgin Group, Sir Richard Branson. Like the accomplished Branson and many industry heavyweights who took countless risks to get to where they are, Traveen too feels that he had to simply take a leap of faith. "No risk, no reward," he says.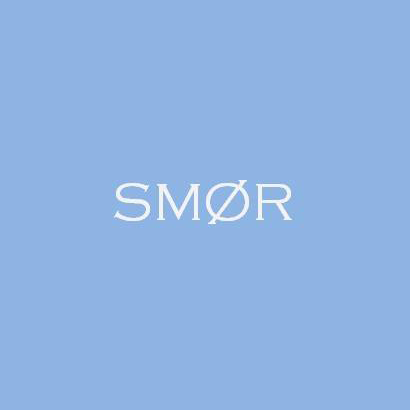 Smør
#B1-23, One Raffles Place
Mon - Fri: 8:00 am - 8:00 pm Sat: 9:00 am - 4:00 pm

Tel: 94301500