JAMES LOH
The taste of Honesty
"The man without a tongue". An improbable nickname for anyone, even more ludicrous for a chef. But this was the nickname that followed James Loh throughout his early working life, given to him by colleagues who saw what little thought he gave to what he ate: "Food was just petrol to my body. I ate without tasting."
Yet today the man is the chef-owner of The Oven Café Bistro, a young F&B establishment that's been quietly winning fans in the emerging Tai Seng precinct centered around the junction of MacPherson and Paya Lebar Road. To hear how he got there, is a story worth retelling:
James comes from a humble background and scratched his way through school, without purpose or a plan. After attaining a forgettable 3 'O' level passes, which severely limited his future options, he signed on with the Republic of Singapore Air Force (RSAF), and worked as an aircraft technician for seven years. Three months into the contract, he discovered that the regimented lifestyle did not suit him. But it was too late; so James sucked it up and completed the contract, before joining Singapore Airlines as a flight steward ("one of the few decent jobs I could get with my 3 'O' levels"). He saw the world and saved some money for five years before heeding his wife's cry to "come back down and become a full-time husband".
James then joined a Malaysian pharmaceutical company trying to hire someone to set up its Singapore operations. He had to do everything – covering sales and marketing, order fulfillment, and doing the accounting over the weekend. It was a hard slog, working 16-hour days for a year with hardly a day off. Then fate intervened and a sales manager from an MNC recruited him, having heard good things from his customers. With her support, he quickly honed his selling skills, consistently achieving 120% of his quota every month.
His success led to better-paying roles with two other pharma companies, where he developed competencies in a range of functional areas, and earned progressive promotions, ultimately to business unit manager with oversight of several territories. But as he gained more insight into Big Pharma, he also became disillusioned with the impact and influence he could possibly exert, and ultimately walked away from a successful career to rediscover his passion and purpose.
The next month, James became a dishwasher at the Alexandra Hawker Centre. He went up to a hawker he frequented, and offered to wash dishes for two months, for no salary, just to learn about the F&B industry. The hawker couldn't believe his luck, and agreed to teach James everything he knew about making wanton noodles in return for 17-hour days of free labour.
James' pharma friends were incredulous. They couldn't imagine the 'man without a tongue' ever making it in this business. But James didn't leave the pharma industry to become a hawker for the rest of his life. He was determined to make this career switch a success, and spent the next 20 months as a recluse, working on R&D while drawing down on his savings.
Near the end of this fallow period, he enrolled for a Certificate in Culinary Arts: a 5-week course conducted by At-Sunrice GlobalChef Academy. There, he learned a lot from batch owner Chef William Lee, and received extra guidance from Chef Lawrence Teo and especially Chef Richard Ang, who was impressed by his discipline, attentiveness and ferocious work ethic.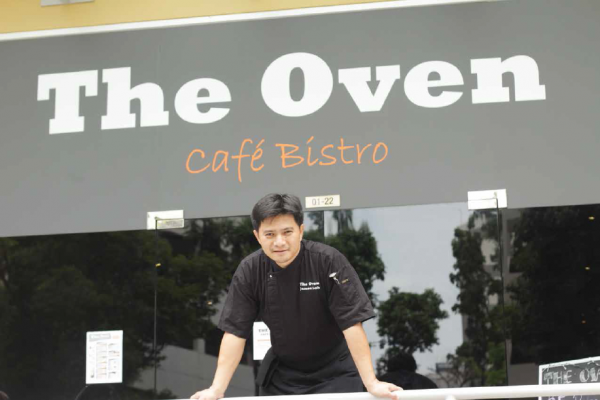 Upon graduation, he opened The Oven Café Bistro at The Commerze@ Irving, a commercial-industrial complex with a captive audience of hungry office workers.
James cringes at the recollection of his first day of business. Four of his coursemates had volunteered to help him, and they were all set. But when the first customer walked in, James froze. By the time the second customer arrived, James was squatting behind the counter, shaking like a leaf. He had never been a chef before, never owned a restaurant. No training has prepared him for this. Somehow, his friends helped him stumble through the day. But as he lay awake at night, wondering if he was destined to be a failure, he realized that he had not organized himself well – he had not visualized the different steps he would have to take to prepare each dish on his menu. And so he spent the next few hours doing just that. The next day, he told his loyal friends, "Whatever happens, don't help me cook. Just stand aside and watch me die." After an hour of observing him handle all the orders on his own, his friends beamed and gave him a 'thumbs-up'. He has never looked back.
The Oven offers a simple but tasty menu, anchored by a selection of spaghetti dishes topped off with his signature baked chicken, as well as some interesting savoury pizzas. The chicken servings are generous – hearty slabs with crispy skin cocooning tender, moist chicken inside that's perfectly seasoned. Chef James makes everything from scratch – including rolling his pizza dough by hand, and dicing chunky mushroom bits for his mushroom soup. He doesn't use MSG or other additives to improve the taste. "I serve food using honest ingredients because I want to earn an honest living. How else will I be able to say 'well done' to myself at the end of my life? That's why I try to be sincere with everything that I do."
Customer feedback on culinary blogs seems to bear this out. Many commendations give a nod to his friendliness, earnest sincerity, and openness to feedback. One customer speaks of her amazement that he tracked her down, 10 minutes after she had left The Oven, to return her baby's spoon that she had absent-mindedly left behind on the table. The most touching story is of how he refunded a customer's money because his assistant had forgetfully left the pizza pan wet; as a result he had to scrape the pizza from the pan. James felt he didn't deserve the money for serving a pizza with an unsightly bottom; so he returned the customer's money even though she hadn't noticed and felt the pizza tasted great.
This is an act of passion; this is the stuff of legends.
Chef James admits that when he opened The Oven, it wasn't because he loved food; it was merely to survive, it was to feed his family. But in pursuing purpose, he's also found passion. And his principled ways have attracted not just fans, but loyal staff. Chef James truly believes that people are the most important assets in a company. And so he strives to build a culture where people can come to work with a mind to play. "If they feel that they're not working, that they're having fun, then things will go well." It's an enlightened approach that is producing results.
But success hasn't gotten to his head. "The food must have texture; it must have flavour. Taking short cuts doesn't make me proud about what I do." He concedes he has to work on his plating; but somehow even this sense of prioritization is true to his character: an earnest, honest man, at long last at home with his calling.